July 16th - July 23rd 2022
The 15th European Summer School is over. How was it?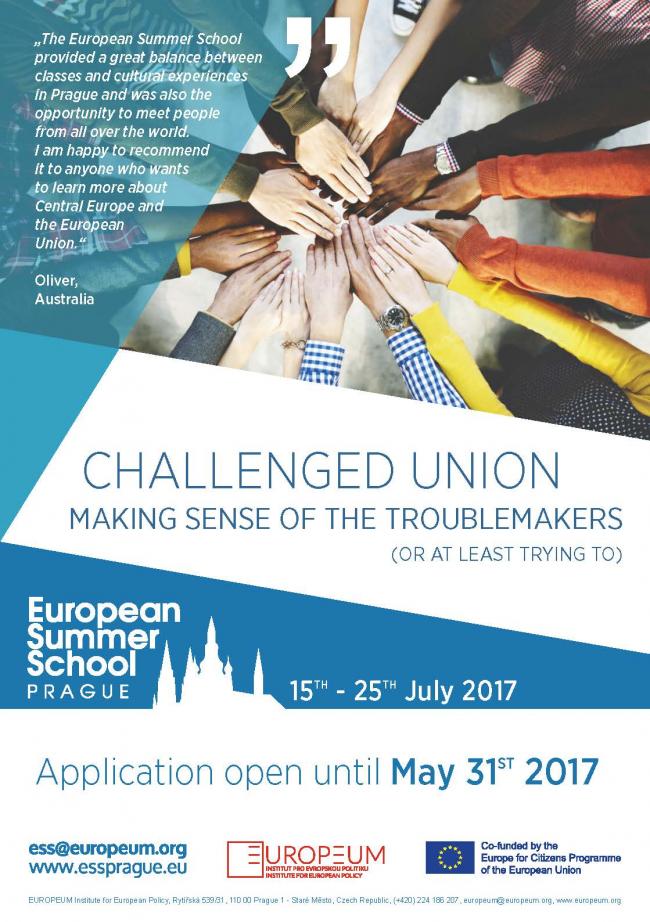 The 15th annual European Summer School took place in July 2017 in Prague and we were happy to welcome 20 students from over 10 different countries.
This year's academic program was focused on the multiple challenges EU is facing at the moment. During the intense ten-day course, the students got the chance to discuss the various challenges of the current world and their possible solutions both on theoretical and practical levels.
The packed academic program was kicked off by Christian Kvorning Lassen from our institute and his seminar on the rise of populism and extremism in Europe. This was followed by Tomáš Weiss (director of the Faculty of European studies, Charles University) and his interactive lecture on EU security and defence policy. The next lecture, delivered by Klára Sutlovičová (Glopolis), was focused on EU climate and energy policy. One of the most discussed topics of the year – Brexit – was also included, presented by Prof Ivo Šlosarčík from Charles University. Stefano Cavagnetto and Bruce Gahir from Prague College then discussed the ethical dimension of European integration and the impact of populism on solidarity among the member states. On the last day we welcomed a special guest from the University of St Andrews, Rick Fawn, who gave a lecture on the recent developments of the Visegrad Four countries. He was followed by Zora Hesová (Association for International Affairs) who focused on the challenges presented by migration and integration of foreigners. The program was rounded off by Michael Romancov (Charles University) who analysed the geopolitical challenges posed to the EU. Apart from the lectures, this year's students could for the first time try their argumentation skills during a debating workshop led by Tereza Vicková.
Apart from that, the students also took part in three excursions combined with discussions with interesting stakeholders. These included the visit to the Ministry of Foreign Affairs and meeting with members of the political planning section, excursion to the Czech Senate and meeting with senator Prof. Vácalv Hampl, and last but not least visit to the British Embassy in Prague wrapped up by a lively discussion with the deputy ambassador Angus Stewart.
During the free time, various leisure activities were organised, including dragon boating, beach volleyball, Czech movie night and a trip to a UNESCO town Kutná Hora.
The summer school was organised in cooperation with our partners – Prague College and Faculty of Social Sciences, Charles University – and under the auspices of the European Commission representation in the Czech Republic. We extend our deepest thanks for the ongoing cooperation and support!
Return to previous page